Ever since my wife said she was thinking about getting me an iPod for father's day, but decided against it because it's too expensive, I've been thinking about getting myself an iPod for father's day. I'm about to have a much longer commute than before–any time you have to get on the train, it's going to be a lot longer than the trip from the bedroom to the den!
Anyway, I went to the Apple store to look at iPod nanos. Of course, you can get them engraved. My first thought was just name and cell phone number in case it gets lost and whoever finds it already has an iPod, therefore would maybe feel like returning it. But, I might change my cell phone number once I become a Californian, so I checked out their suggested engravings.
Mother's day has recently passed, graduation and father's day are coming up. Some enterprising Apple employee thought that any reference to "mom" should be replaced by "dad" so that "We love you mom – the kids" would become "We love you dad – the kids." I mean, it makes sense right? But with global search/replace you come up with some very progressive slogans like the one that follows. Yes, this is an ACTUAL (cropped) screen cap from Apple.com – no idea how soon they'll catch and fix it.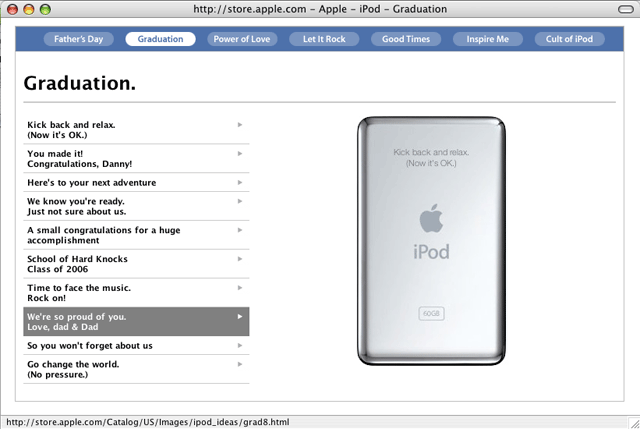 Yup, my two dads are proud of me! Another classic there was "Call your dad, she worries." Who said mainstream corporate America wasn't trans/gay friendly?